THE GROBAND
'The Groband' is an affectionate term given by Josh fans to the incredible team of musicians who back Josh up on tour and at his performances. While there have been many great people who have played with Josh on his albums, a special few have become well-known to the Grobanites, and have earned a rightful place close to our hearts. All outstanding individual musicians in their own right, as a band they are simply the best there is.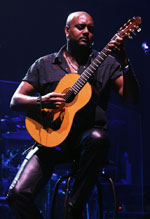 Tariqh Akoni
Musical Director, Guitar
www.tariqh.com
myspace.com/tariqhakoni
Not only a top-notch guitarist but also a really nice guy, Tariqh grew up being exposed to a diverse range of musical genres and found his life's passion when he first picked up a guitar at age 16. His love for music led him to study at the prestigious Berklee College of Music in Boston, but he got his best experience playing in local clubs and learning from veteran musicians who served as mentors. He moved to LA in 1997, and has since performed with such greats as George Duke, Chaka Khan, Whitney Houston, the Backstreet Boys, Christina Aguilera, Huey Lewis, and Stevie Wonder, among others. He has been hard at work recording his first solo CD, so watch for it! When he's not on tour, our multi-tasking guitar hero can be found as the head of the guitar department at Los Angeles Music Academy!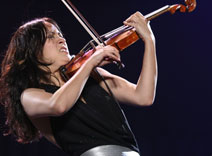 Lucia Micarelli
Concertmaster, First Violinist
www.luciamicarelli.com
myspace.com/luciamicarelli
Lucia is a world-class violinist who joined Josh on tour and wowed the crowds with her amazing talent. Her arrangement of "Nocturne/Bohemian Rhapsody," performed barefoot onstage, brought the house down night after night! Who knew the violin could be so... HIP?? Lucia began studying the violin at the age of three, and made her orchestral debut at the age of six with the Honolulu Symphony. She began studying at Julliard at age eleven, and has since toured the US and Europe, including a gig as the string conductor for the Trans-Siberian Orchestra and a tour with Jethro Tull. Her solo CDs include "Music from a Farther Room," (executive produced by our own Josh!) and "Interlude". Get them here!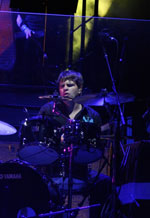 Craig MacIntyre
Drums
www.craigmacintyre.com
myspace.com/craigmcintyre
Boston native Craig began playing drums as a teenager and quickly became one of the most sought-after live and session drummers in the country. Before Joining Josh's band, Craig performed with Jackopierce, Toni Lynn Washington, Jess Klein, Johnny A, and the Swinging Steaks, among others. Now a resident of Los Angeles, Craig provides the rhythm for ultrahip band Our Friend the Atom and also serves as musical director and drummer for Americana artist Heather Waters. [Get her music here.]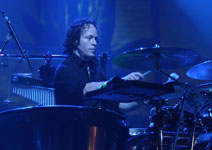 Tim Curle
Percussion
Tim Curle is the amazing percussionist performing with Josh on tour. A graduate of the University of Oregon (BM) and the University of Southern California (MM), Tim has performed and/or recorded with such extraordinary artists Herbie Hancock, Elton John, David Foster, Chris Botti, Lucia Micarelli, Zach Provost, Bird York, John Williams, Angie Stone, Andrea Corr, and Bela Fleck. While not on tour with Josh, Tim currently teaches percussion, drum set and Latin jazz at Mt. San Antonio College.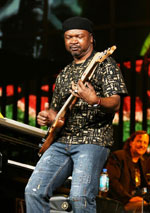 Andre Manga
Bass
myspace.com/andremanga
Growing up in Cameroon, Andre Manga was always drawn to music--just seven years old when he built his first instrument from pieces of bamboo and tree trunk. Defying his parents (who were afraid music would distract from his academics) Andre sought the company of other musicians and studied music in secret. After his secret was revealed, Andre joined the Cameroon National Orchestra at 17. Andre has since performed or recorded with some of the world's greatest musicians, including Manu DiBango, Paul Simon, Sinead O'Connor, Ladysmith Black Mambazo, and Peter Gabriel.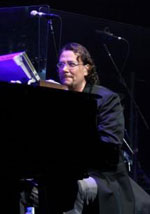 Mark Stephens
Piano
markstephens.net
myspace.com/markstephensmusic
Amazing jazz pianist and composer Mark Stephens joined Josh during the Awake tour in 2007. Among the artists the Grammy-nominated musician has worked with previously are Chaka Khan, Alanis Morissette, Prince, Diana Ross, Jeffrey Osbourne, Take 6, Marcus Miller, Michael Brecker, Stanley Clarke, Lee Ritenour, George Duke, Larry Carlton, Kirk Whalum, Boney James, Jonathan Butler, and Rachelle Ferrell. His new solo CD, "The Dream of the Peaceful Warrior", is amazing! Get it here.